Energy from Rubbish – Event Details
Our next speaker will be Kim Olsson from NSR Helsingborg, Sweden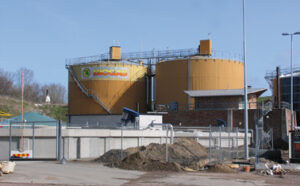 Scotland's new waste reduction targets look ambitious — from 2014 local authorities will have to offer households
in urban areas separate food waste collection and food-related businesses will
have to separate food waste for recycling (hospitals and others with less than
50kg of weekly food waste have until 2016).
Regulations will bring in two different 'landfill bans': a ban on materials separated for recycling (from 2014); and a ban on biodegradable material (from 2021).  Can Scotland reach these green targets when newspapers reported only this week that £2m of valuable materials are being thrown into landfill or burned every day in Britain?
Kim Olsson's massive recycling plant in Sweden not only recycles 80% of all rubbish but the anaerobic digester plant produces bio-fertiliser (supplied in pipes direct to nearby farms) and bio fuel for cars. The key to Sweden's success?
Weds 31st October Committtee Room 1 Scottish
Parliament
Organised by the Embassy of Sweden with Nordic Horizons
Hosted by Mike MacKenzie MSP, Energy
Energy from Rubbish – Digital Notes
Hosted by Mike MacKenzie MSP, Energy and organised by the Embassy of Sweden with Nordic Horizons, this meeting was held on Weds 31 October in Committee Room 1 at the  Scottish
Parliament. Kim Olsson of NSR was the main speaker.
You can download 'Energy from Rubbish – Notes from the Meeting' here.
Presentation
You can download the Nordic Horizons NSR 'Energy from Rubbish' Powerpoint presentation here.
Vimeo Video Resources
Text
Soundcloud Podcasts
A variety of digital artefacts are available. These include an audio recording of the presentation., the Powerpoint presentation itself and a comprehensive set of meeting notes. Please note the audio podcast ( 9MB ) and Powerpoint presentations  ( 33MB )  are large files.
You can download Energy from Rubbish Meeting Audio Podcast here.
---