Beyond NATO – Event Details
Norway is a member of NATO, Finland is not. Does that single fact produce radically different thinking about peace and security in the two nations? Or does more unite the Nordic neighbours who are both members of the Arctic Council and other alliances, both reject nuclear weapons in their waters, share outlooks on neutrality and the importance of non-military peaceful activity?
How did the experience of World War shape the outlook of these two countries in the sphere of international relations and what is the right size for their defence forces? Defence policy in an independent Scotland was a controversial and divisive issue during 2012. Can the defence strategies of Nordic nations usefully inform both Scottish and UK debate?And how does the international relations community regard the possibility of an independent Scotland in the context of security?
Anne Palm runs Finland's Civil society conflict prevention network (KATU) and Iver Neuman is Professor of International Relations at London School of Economics and was senior adviser to the Norwegian Foreign Ministry. Chaired by Lesley Riddoch, writer and broadcaster.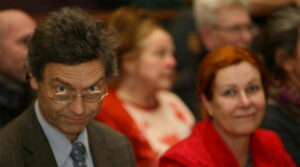 More Sandy Miller photos on NH Facebook
Soundcloud Podcasts
The event was recorded and there are three separate recordings of each speaker and the Question and Answer session. The acoustics were not ideal for the Q&A but both Professor Neuman and Anne Palm make excellent points in answering the audience's questions. You can download each of the files individually below.
Download Prof Iver Neuman's speech here.
Download Anne Palm's speech here.
Download the Beyond NATO Q&A here.
If you weren't there, Professor Iver Neuman and Anne Palm were very good at making the subject matter come alive. Sandy Miller's photos alone will make you want to join our Facebook group . Special thanks to Mona Røhne of the Royal Norwegian Consulate for her hospitality and support.
---